HDMI 4K 60Hz AOC Fiber Optic Cable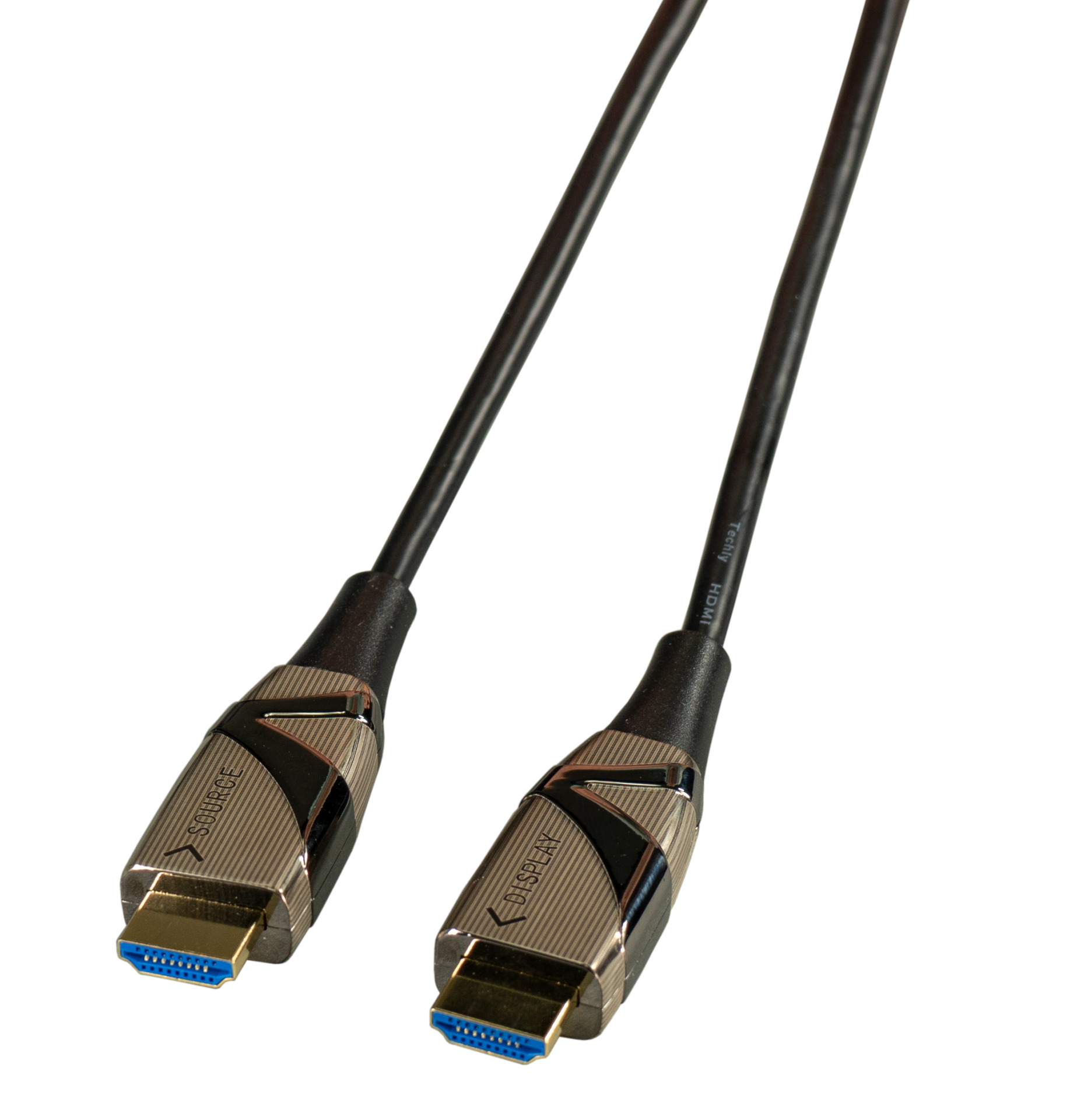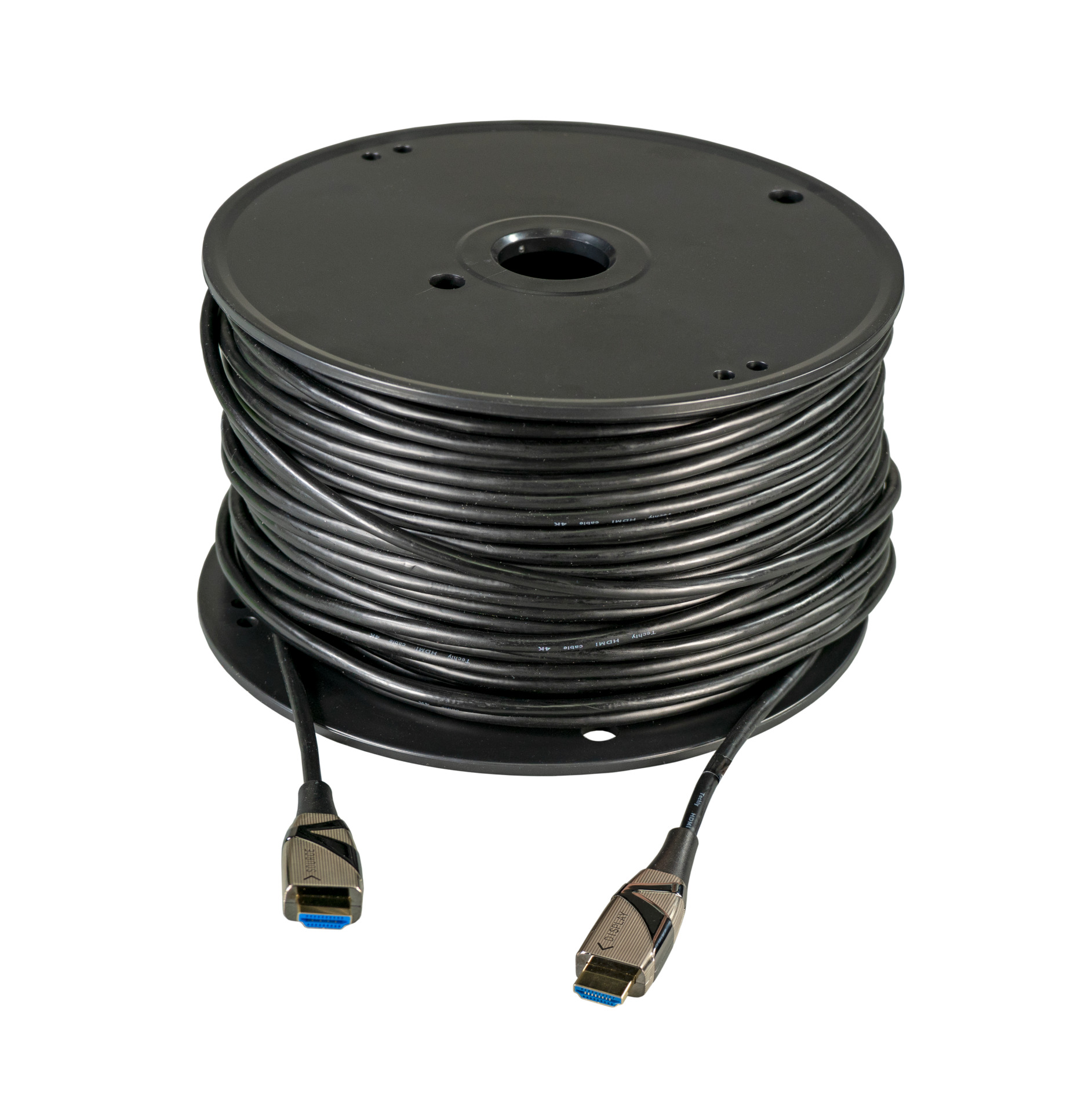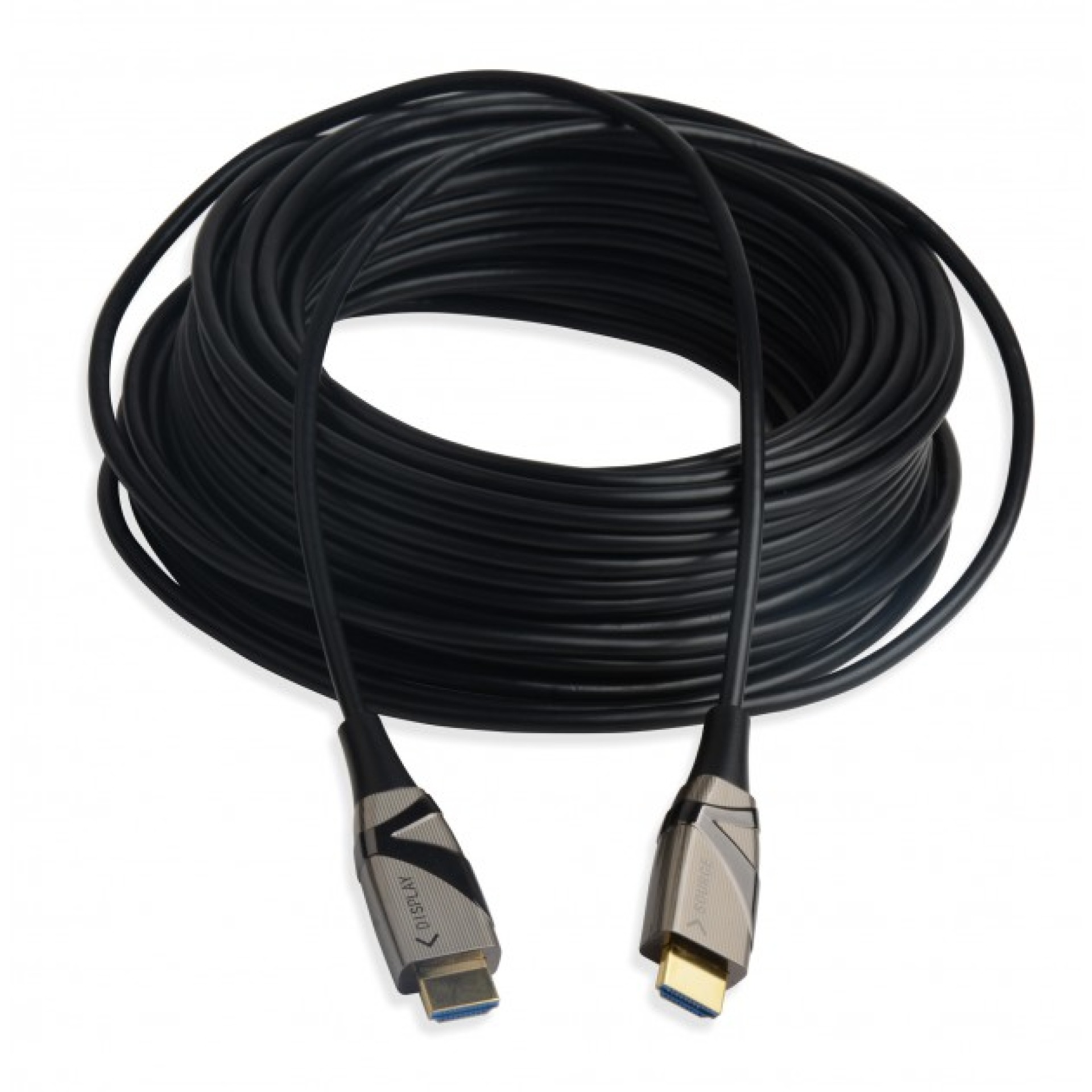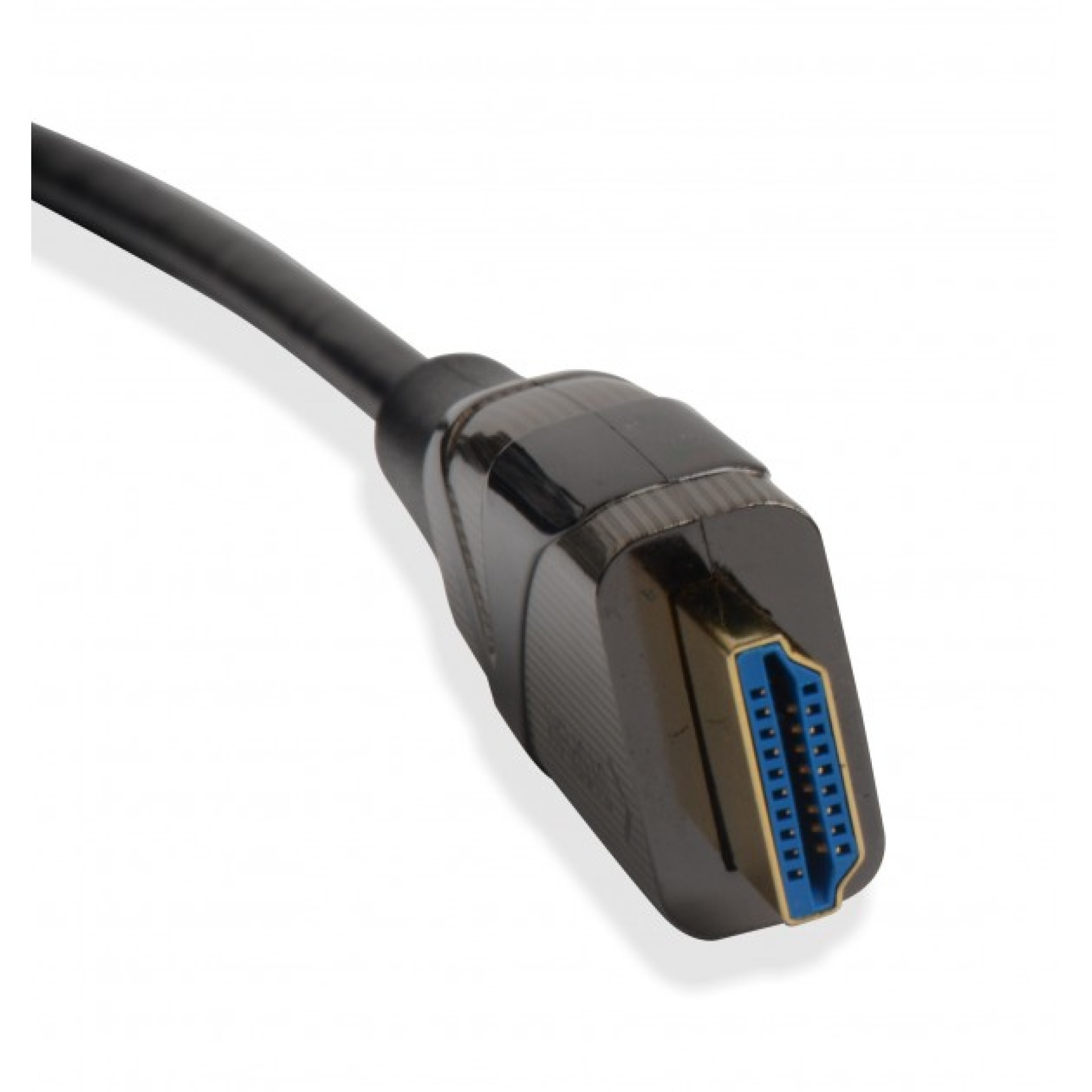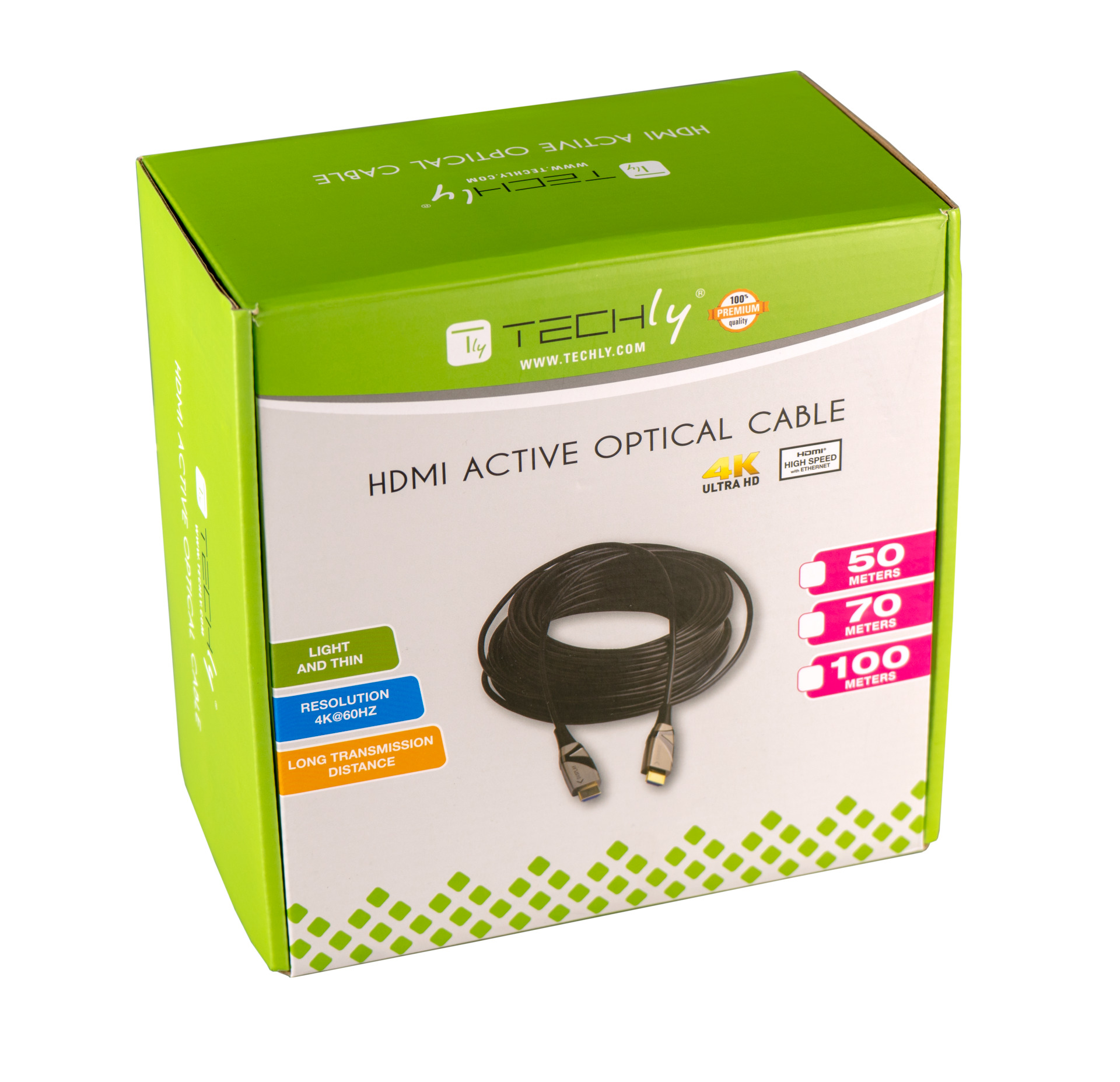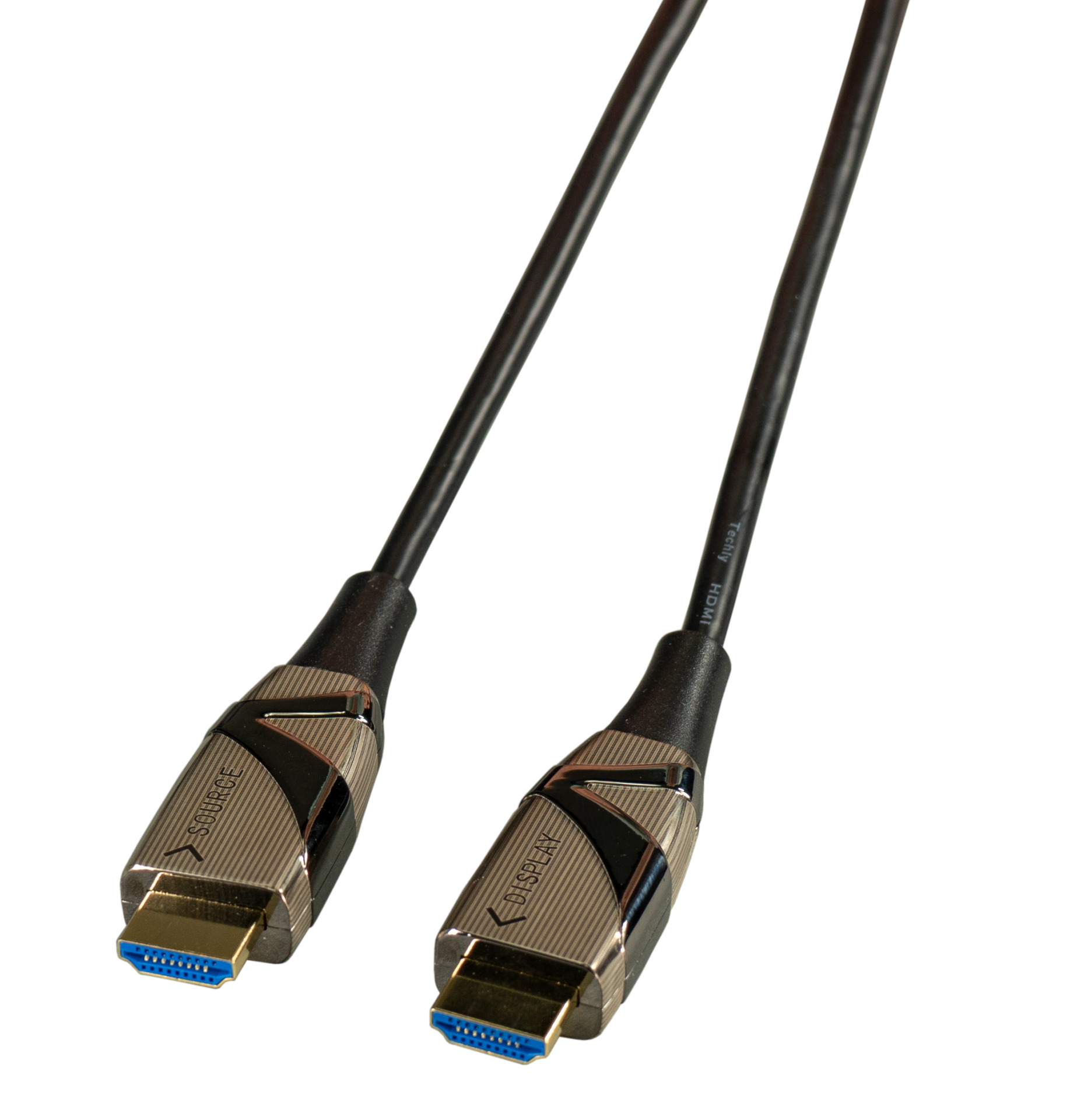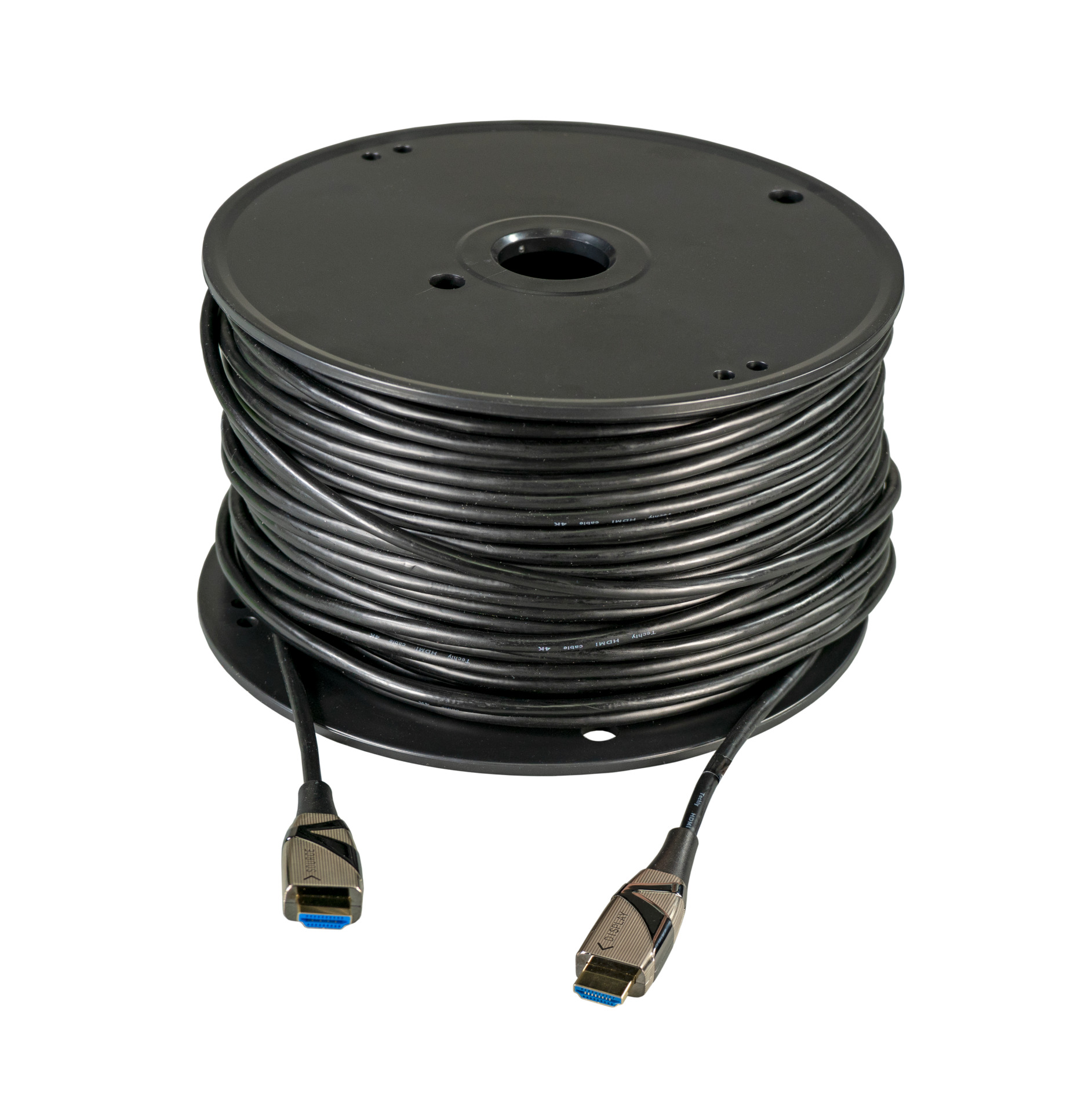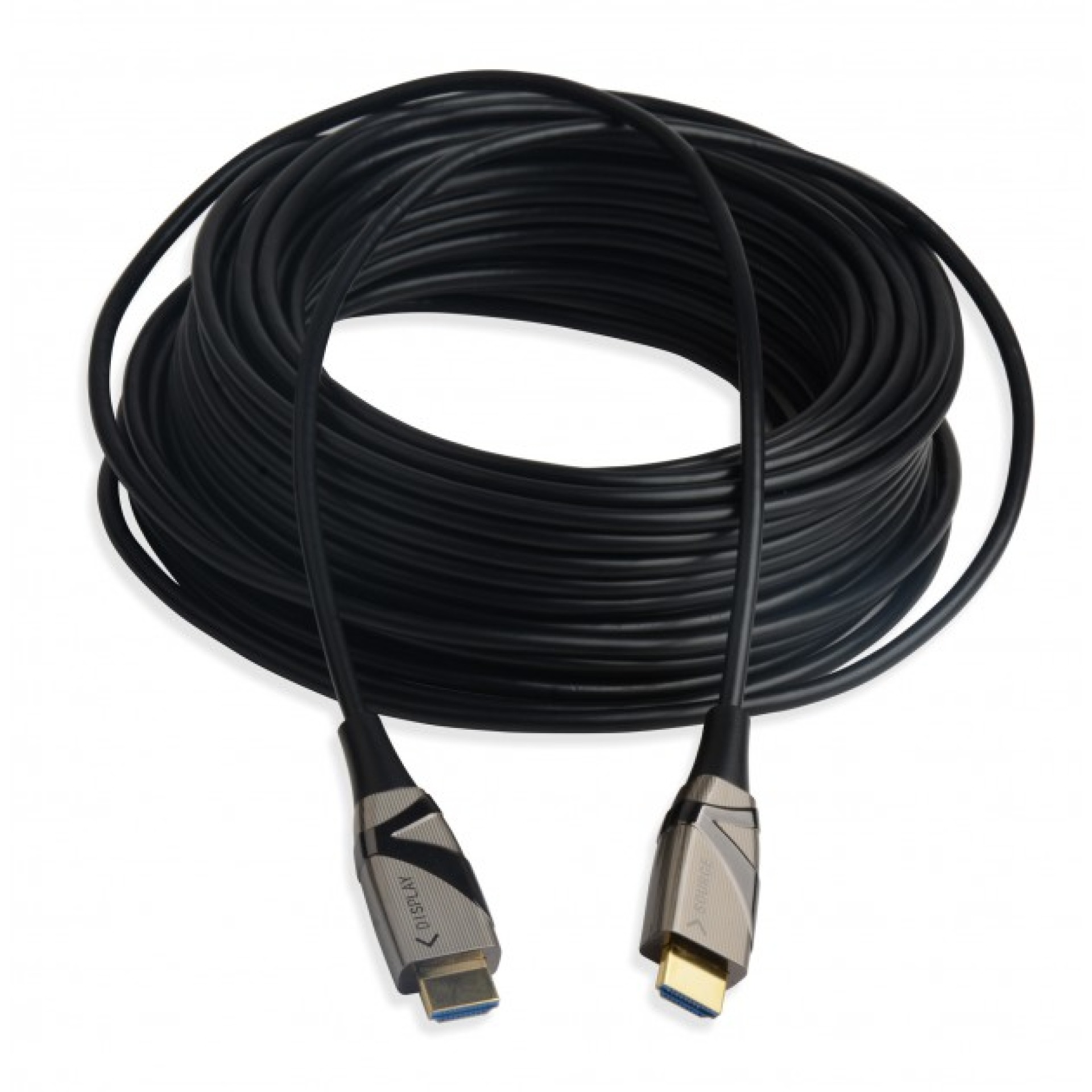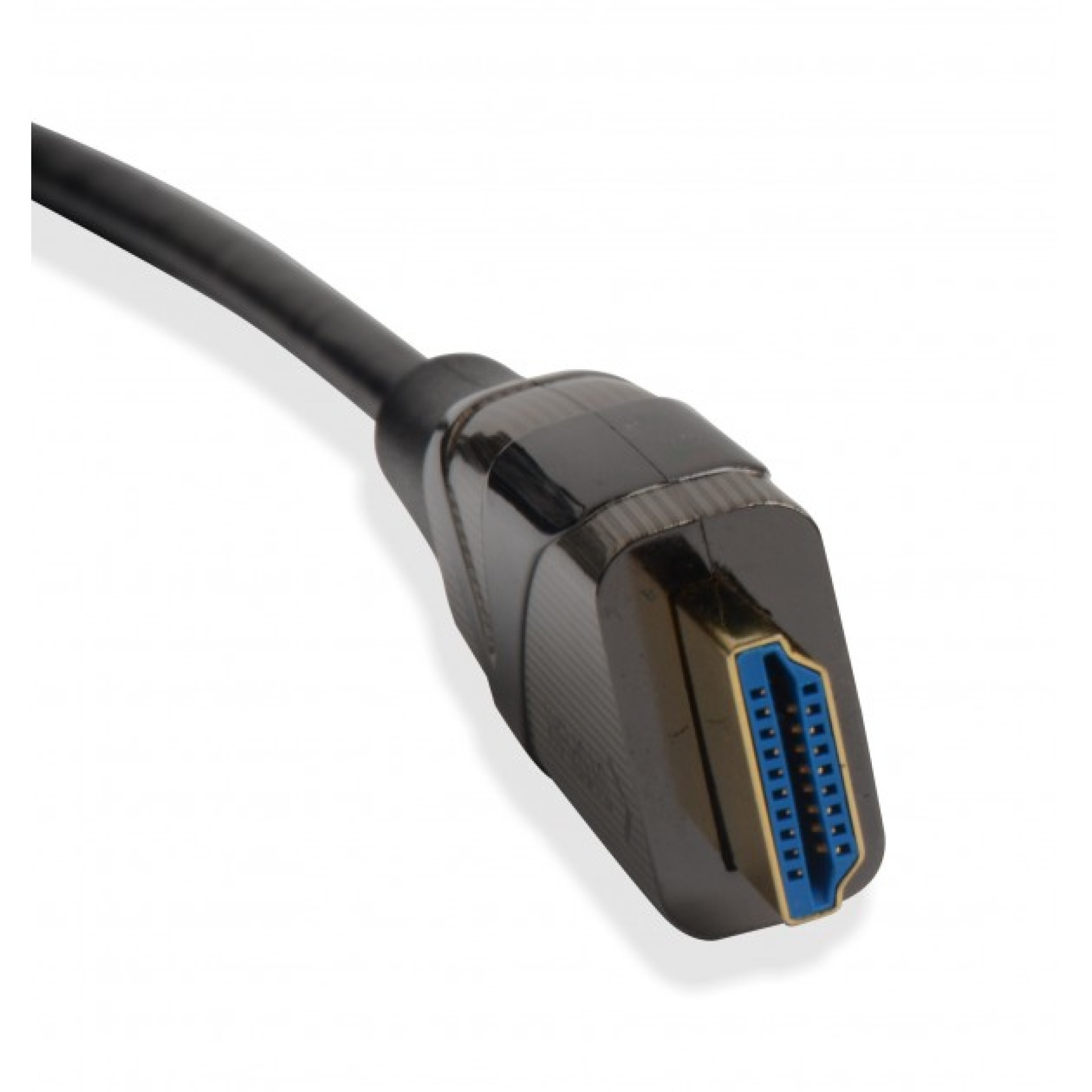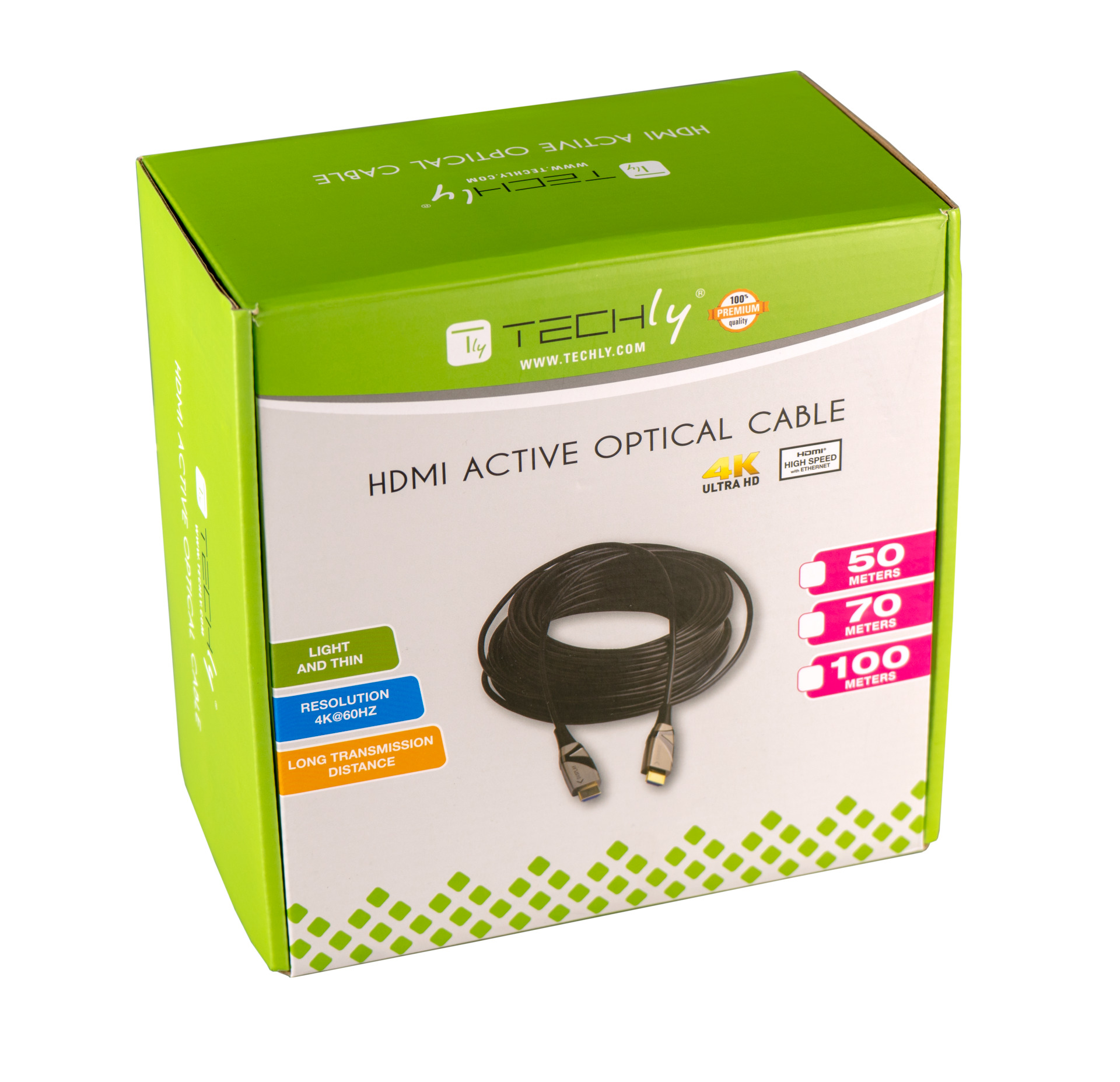 Priser kun synlige for indloggede brugere
HDMI 4K 60Hz AOC Fiber Optic Cable 10m
Varenummer:
ICOC-HDMI-HY2-010
Produktinformation für HDMI 4K 60Hz AOC Fiber Optic Cable 10m
The active High Speed HDMI audio video cable is characterized by copper and fiber conductors, offering a lighter and more flexible structure ideal for installation in confined spaces and longer distances: the ideal solution for conference rooms, classrooms, illuminated signs and much more.
The hybrid HDMI cable enables the transmission of high quality video and audio signals for long-distance signal transmission without loss of quality. Signals from sources such as Blu-ray, media players, DVD, SAT etc. they are received by TV UHD and FullHD and projectors with a resolution up to 4Kx2K. The HDMI High Speed fiber optic cable supports 4Kx2K / UHD video resolutions (max 3840x2160 and 4096x2160 @ 60Hz), 1080p / FullHD, 1080i, 720p, 480p.
Supports Deep Color rye, HDCP 2.2, EDID, CEC and transmits Audio Return Channel (ARC).
NB:This cable has a uni-directional architecture that requires the cable to be installed in the correct direction. Check the "source" and "display" labels on the HDMI connectors to verify that the device and the HDMI source are connected properly.
Features
Thinner, lighter and softer than the traditional copper cable
Supports long transmission distance
Highly resistant with EMI and RFI
Supports high resolutions: 4K @ 60Hz Ultra HD
Compliant with connection to all type A HDMI connector devices
Compatible with HDMI 2.0 / 1.4 version
Supports devices in HDR 4K format
Data rate: 18 Gbps
Easy to install; Plug and play
Low power consumption and no need for external power supply
Supports 60Hz HDR / 3D / 1080p / 1080i / 720p 4K2K format
Supports HDCP / EDID / CEC / DDC
Audio support
Thanks to its flexible and thin design it is ideal for installations where space is limited or limited
Black colour
Applications
Home theater
High definition videoconferencing system
Medical Video System
High definition video surveillance system
Digital signal and TV Wall
Technical specifications
Supported resolution: 3840 * 2160 (4K * 2K)
FPS: 60 max.
YGB: 4: 2: 0 or 4: 4: 4
HDCP: Pass (2.2)
Meets HDMI 2.0 requirements
Package Contents
HDMI cable on optical fiber
Tekniske egenskaber
| | |
| --- | --- |
| Connection type connection 1: | plug |
| Connection type connection 2: | plug |
| Number of poles connection 1: | 19 |
| Number of poles connection 2: | 19 |
| Type of connector connection 1: | HDMI (HDMI-A) |
| Type of connector connection 2: | HDMI (HDMI-A) |