Cat.8-kabler, konnektorer og distributions-
paneler
Høje datahastigheder uden at skifte til fiberoptik: Cat.8-systemet gør det muligt. EFB-Elektronik tilbyder alle komponenter til moderne Cat.8-forbindelser og en masse ekspertise til en vellykket anvendelse.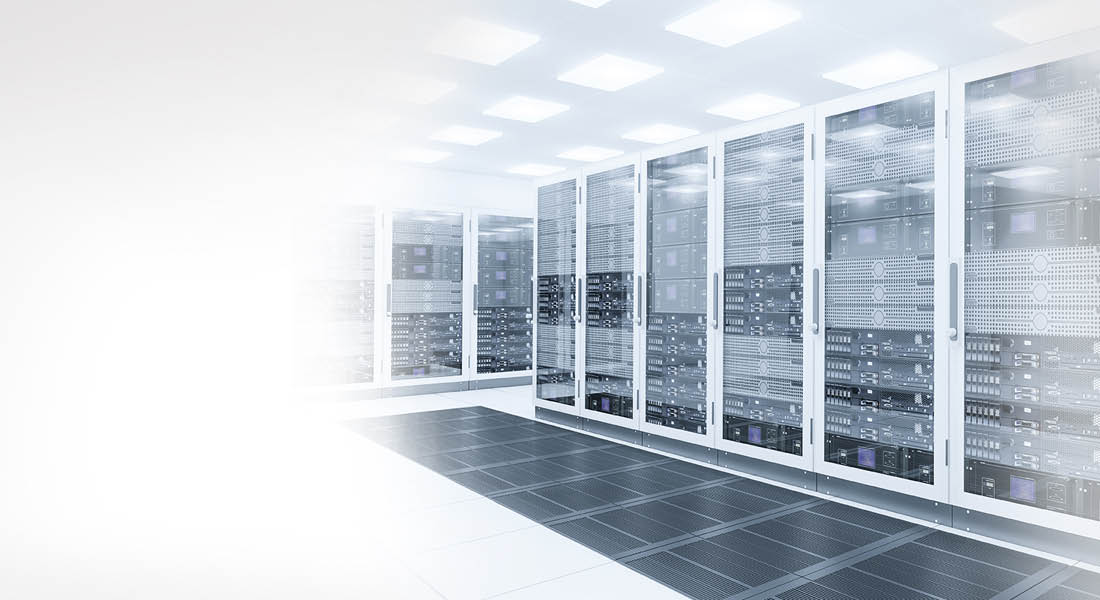 Cat.8-Systemet fra EFB-Elektronik til den perfekte forbindelse
Hos EFB får du alle Kategori 8-komponenter til et komplet kabelsystem. Fra Kategori 8 netværkskabler, patch kabler, patch paneler og keystone's, til modular stik, der kan monteres direkte uden brug af special værktøj. Med Cat.8.1- (KLASSE 1) standarden, kan du opnå hastigheder på op til 40 gigabit per sekund (Gbit/s) over kabellængder på op til 30 meter. Kategori 8 kablerne er godkendt til maks. signalfrekvenser på 2.000 MHz. Kategori 8 kan med fordel anvendes i server miljøer, såvel som i backbone systemer med korte afstande".
Hvorfor anvende kategori 8?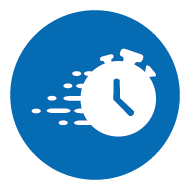 Highspeed fra op til 40 gigabit pr. sek. (Gbit/s)
Fremtidssikret og forberedt til de næste 10 års behov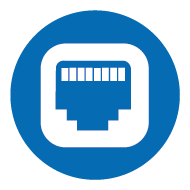 Power over Ethernet mulig ved 25 Gbit/s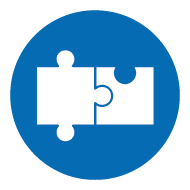 Fuldt kompatibel med eksisterende installationer og komponenter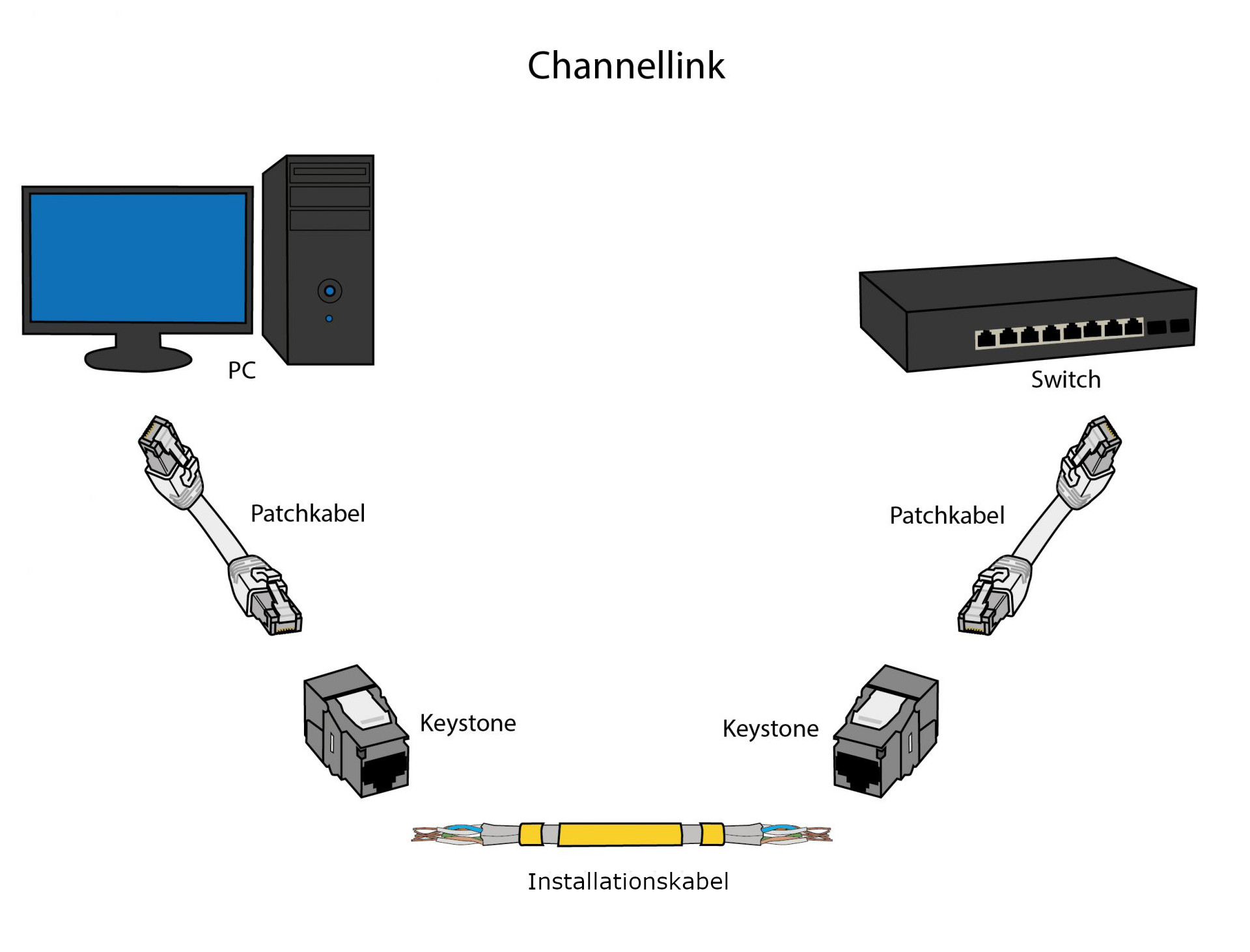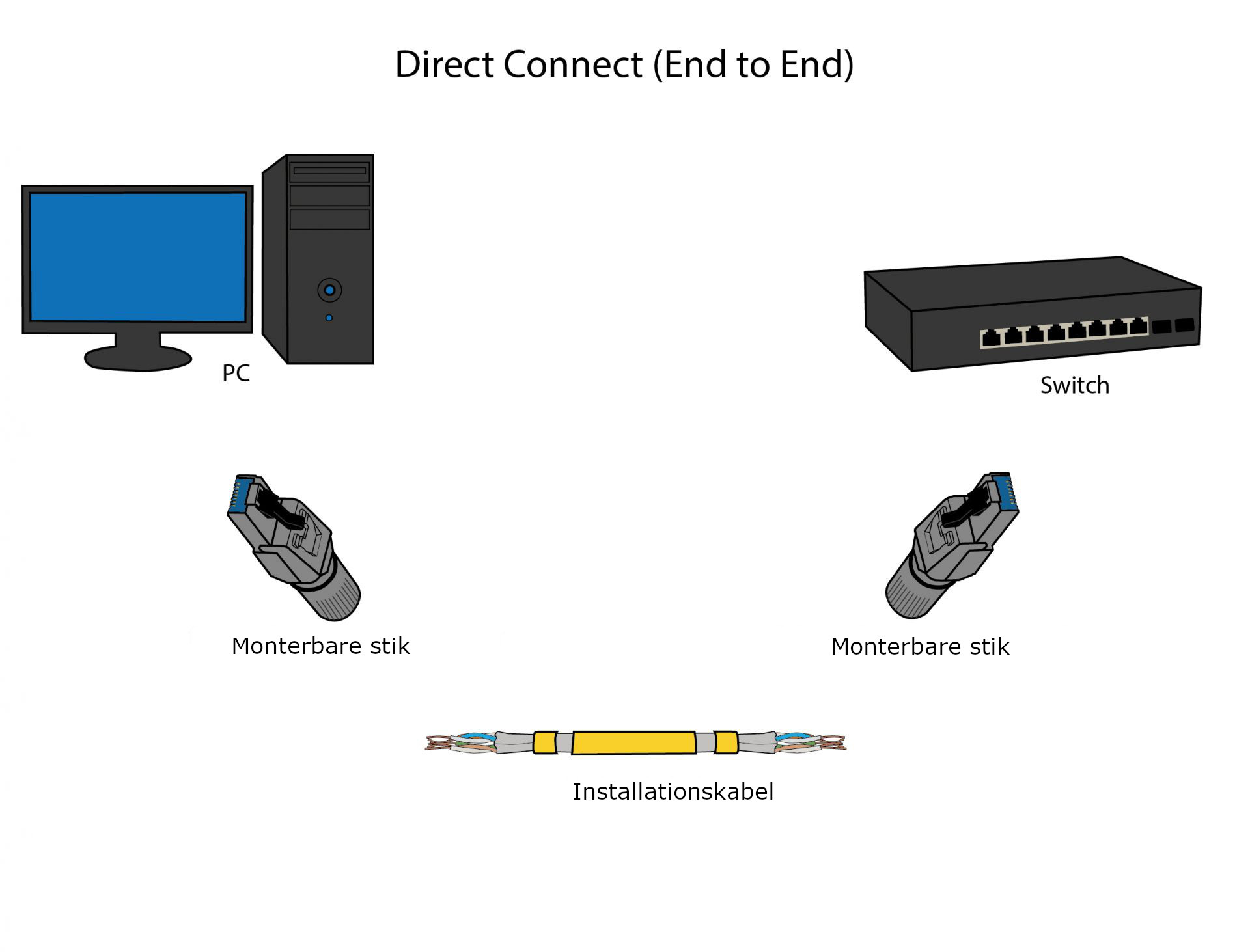 Channellink
Cat.8-transmissionslink må maksimalt indeholde 2 stikforbindelser (2-konnektor-kanal).
Den maksimale længde på "channel Link" er 30m
26m kabellængde på installationskablet
2m patch-/jumperkabel i begge ender
Direct Connect (End to End)
"Direct Connect" (også End to End Link) giver mulighed for tilslutning af installationskablet via Kabel monterbare Modular stik, direkte fra switch til PC/server eller anden genstand. Den maksimale længde på Link er 30 m.
Bestil certificerede Cat.8-produkter hurtigt og nemt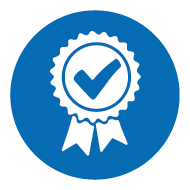 Mere sikkerhed gennem certificeringer
Cat.8 kabelsystemet fra EFB-Elektronik er certificeret. Dette giver dig og dine kunder et bevis på den høje kvalitet og lang levetid.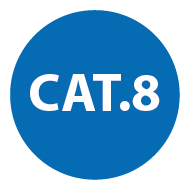 Komplet CAT.8-produktportefølje - Leveres direkte fra lager
Alle Cat.8-produkter kan fås straks fra lager. Takket være EFB Elektronik's gennemtænkte og komplette Cat.8-system er det muligt at installerer fra A-Z.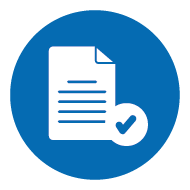 Udbudstekster til planlægning
Du kan få alle udbudstekster på tysk og engelsk ( findes i shoppen ved hver artikel). Du skal blot integrere teksterne i dine udbud.
Hvad er et Kategori 8-kabel?
Et Cat.8-kabel er et typisk S/FTP (Screened Foiled Twisted Pair) kabel med 4 snoede par, hver med sin egen folieskærm. En flettet kobber-skærm, omslutter også alle 4 par og beskytter dermed imod elektromagnetisk stråling. Aluminium skærmen som skærmer det enkelte par, beskytter mod højfrekvent støj, hvor den flettede kobber-skærm, beskytter mod lavfrekvent støj.
Hvor langt må en kategori 8 link være?
Den maksimale længde på hele transmissionsstrækningen er 30 m. Her er der tre muligheder:
Long Channel: Fordelt på 26 m installationskabel og 2 m patch-/jumperkabel i begge ender
Short Channel: Fordelt på 5 m installationskabel og 2 m patch-/jumperkabel i begge ender
Direct Connect: Med et 30 m installationskabel og to direkte monterbare Modular stik
Hvad er forskellen på kategori 8.1 og kategori 8.2 (jvf. EN50173 & ISO/IEC11801)?
Mens de velkendte RJ45-stik bruges til Kategori 8.1, leveres forskellige stik som bla. ARJ45, GG45 eller Tera, til et Kategori 8.2 system. Vær opmærksom på at stik for et Kategori 8.2 system ikke er kompatibel med RJ45. Dette vil betyde at der skal anvendes særlige specielle patchkabler i hver ende, idet PC'er/Servere oftest anvender RJ45 stik som snitflade.
---
Opdag nu: Alle Cat.8-produkter fra én kilde hos EFB-Elektronik
---
EFB-Elektronik: Professionel service til din Cat.8-installation
EFB-Elektronik er en af de førende producenter af netværksteknologi. Vi tilbyder vores kunder fra installationsbranchen, fag- og engroshandlen samt industrien ikke kun produkter af høj kvalitet inden for Cat.8, FTTx og hele data- og netværksteknologien, men står også for professionelle komplette systemer efter mål. Det kompetente eksperthold samarbejder efter anmodning med dig om at udvikle individuelle systemløsninger til din udfordring. EFB-Elektronik-ingeniørerne fra forskellige teknologiske områder står dig med ord og handling til side for at føre dit projekt til succes. Tal med os, så finder vi en løsning!